RYA Course Availability 2023
New or seasoned skipper? Yacht Sail Training can assist.
For beginners, we offer comprehensive sailing lessons. For experienced sailors, we provide advanced coaching and skill development. Our RYA-certified courses are designed to enhance your sailing abilities. Book with Yacht Sail Training – RYA Sailing School Croatia to elevate your sailing expertise.
Looking to charter a yacht or become a professional skipper? Interested in buying a yacht and setting sail into the sunset? Yacht Sail Training, a recognized RYA Sailing School, can help you develop these life skills. Gain the expertise to sail your own yacht worldwide.
Seeking professional training from RYA-certified instructors? Our offerings encompass not just friendly, enjoyable, and challenging sailing, but also take place in a rewarding vacation environment near Split, Croatia. Whether you aim to advance your sailing career or gain more confidence, Yacht Sail Training is your ideal sailing destination.
RYA Course Availability 2022
Yacht Sail Training embraces the world-recognized RYA training syllabus, providing top-notch RYA training courses and sailing holidays along the stunning Croatian coast, including Split-Dalmatia and Brač Island.
Train under professional RYA instructors who not only love what they do but also maintain a positive approach and possess extensive experience in RYA training. Our instructors ensure that each student finds the training enjoyable and rewarding.
Looking for 'bare' boat or skippered yacht charter in Croatia? Need a yacht delivered by professional, commercially endorsed RYA qualified offshore and ocean sailors? Get a quote now.
RYA Sailing School, Split, Croatia - Yacht Sail Training
Start your sailing journey today! Explore our RYA sailing courses and gain comprehensive knowledge. Contact Yacht Sail Training for detailed information on RYA Sailing Schools. Experience Croatia's finest with our all-inclusive packages, quality yachts, and transparent deals. Elevate your sailing prowess with Yacht Sail Training RYA Sailing Academy, where the Croatian coast offers the perfect backdrop for your yachting dreams.
Experience builds competence and confidence. Whether you aim to work on a yacht or enjoy your own vessel, including RIBs or super-yachts, we're here to assist you in learning to sail. Explore sailing jobs, sail with professional yacht crew, or gain the confidence to charter a yacht with friends and family. Taking your next RYA sailing course brings you one step closer to achieving your goals.
Above all, the facts: we are an RYA Sailing School based in Split, Croatia. We provide practical RYA Sailing Courses, along with classroom and online RYA theory courses, including fast-track options. Our courses range from RYA Competent Crew and RYA Day Skipper to RYA Coastal Skipper. Advance to our top-tier certifications, the RYA Yachtmaster™ Offshore and RYA Yachtmaster™ Ocean. Book your RYA Sailing Course with us today!
Yacht Sail Training - On and off the water
Yacht Sail Training - RYA Sailing School - Croatia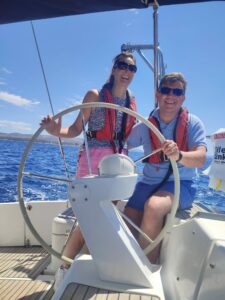 Private family or friends RYA training in Croatia provides a...
Read More