RYA Day Skipper Theory - Online Course

Royal Yachting Association
Discover a Comprehensive Range of Sailing Courses
At Yacht Sail Training, we take pride in offering a full spectrum of courses, with new courses and dates continuously added to our roster. If the preferred date for your course isn't currently available, feel free to get in touch with us. Our accommodating team may be able to make arrangements to suit your schedule.
Included:
4-day unconditional money-back guarantee.
12 months of access.
24*7 Instructor Support  (from UK and Thailand).
Student Pack (2 charts, training almanac & course handbook).
RYA chart-plotter software.
13 fully-narrated lessons (not just the animations). Also including realistic 3D graphics and embedded quizzes with instant feedback.
13 self-assessment exercises with fully worked answers.
Radar & AIS Training.
Videos covering: updating paper charts, engine checks, dismasting, jury rig. Flood control and firefighting. Also gas explosions, capsize, lifejacket checks. How to put on a lifejacket and what happens when it inflates. Man-overboard recovery, launching and also boarding a liferaft.
Also Includes:
Downloadable US Chart 1 (5011 equivalents) + 48 other downloadable or linked resources.
Mock Exams with automatic feedback.
2 Final Online Exams with detailed instructor feedback and unlimited attempts. You can arrange your own invigilator.
Unlimited free exam resits.
RYA Day Skipper Theory Course Completion Certificate to support your practical course or a professional qualification.
Download lessons to run offline on iPads, iPhones and Android Devices.
2 Years further access to training materials once you've completed the course.
UK Delivery by First Class Post.
Furthermore (Options):
Top quality Portland Plotter and brass chart dividers, £28.
Free UK Delivery
European delivery £20.
Worldwide delivery, £40.
Additional 6 months, £50 or 12 months, £80.
RYA Day Skipper Theory Syllabus
Chart Familiarisation.
Tidal Heights.
Tidal Streams.
The Compass & Position Fixing.
Dead Reckoning & Estimated Position.
Course to Steer.
Electronic Navigation.
Buoyage.
Pilotage.
Passage Planning.
Meteorology.
The Collision Regulations.
Safety & Protection of The Environment.
Welcome to Yacht Sail Training
Your Premier RYA Sailing School in Croatia
Looking for RYA Day Skipper Online practical course information?
Contact us for assistance or secure your spot in one of our comprehensive RYA sailing courses. Discover an exceptional sailing school nestled in the heart of Croatia, offering top-notch instructors, excellent boats, and no hidden fees! Yacht Sail Training, your go-to RYA sailing school in Croatia, is committed to advancing your sailing and yachting qualifications.
Elevate Your Sailing Experience Worldwide
Dive into the world of sailing yachts, motorboats, super-yachts, or RIBs with confidence. Let us guide you through your learning journey and help you secure lucrative sailing jobs or find new yacht crew members. Engage in thrilling races and regattas to fuel your passion. Take the next step towards achieving your sailing ambitions by enrolling in our comprehensive sailing courses.
Explore Our Comprehensive RYA Courses in Croatia
Located in Split, Croatia, we are a distinguished RYA Sail Training School providing convenient Online RYA Courses, including RYA Essential Navigation and Seamanship. Enroll in our practical courses such as RYA Competent Crew, RYA Day Skipper, RYA Yachtmaster Coastal, RYA Yachtmaster Offshore, and RYA Yachtmaster Ocean. Accelerate your sailing journey with our RYA Fast Track Sailing Courses, Adventure Courses, and Mile Building courses. Yacht Sail Training proudly holds the recognition of being a Royal Yachting Association (RYA) School, ensuring the highest standards of practical and theory courses.
Embark on Unforgettable Sailing Adventures
Expand your horizons with our enticing Mile Building, Skipper Charters, and Sailing Holidays in Croatia, Greece, and Italy. In need of a charter yacht? Reach out to us for a personalized quote that caters to your specific requirements.
Enroll in RYA Courses and Set Sail Globally
Join Yacht Sail Training's esteemed RYA sailing school in Croatia and witness your sailing dreams come to life. Prepare to sail across the United Kingdom (UK) in the Solent, Montenegro, Gibraltar, Spain, Morocco, Italy, France, and Portugal. Stay updated on our exclusive sailing course discounts and holiday offers by following us online.
Day Skipper Online Theory
RYA Suggested Training Route
The Royal Yachting Association (RYA)
Advocates a comprehensive training route that serves as a benchmark for individuals aspiring to excel in the world of sailing. With their structured and well-established scheme, the RYA facilitates a progressive learning journey for sailors of all levels.
Beginning with the fundamental Essential Navigation and Seamanship course, participants can seamlessly advance through the Competent Crew and Day Skipper levels, gaining invaluable practical experience and theoretical knowledge.
The RYA's scheme
Further paves the way for sailors to reach the advanced levels of Yachtmaster Coastal, Yachtmaster Offshore, and ultimately, Yachtmaster Ocean, each stage building upon the skills and expertise acquired in the preceding courses. This carefully curated training route not only ensures a thorough understanding of navigation, safety, and seamanship but also instills the confidence and competence necessary to navigate the open waters with finesse and proficiency.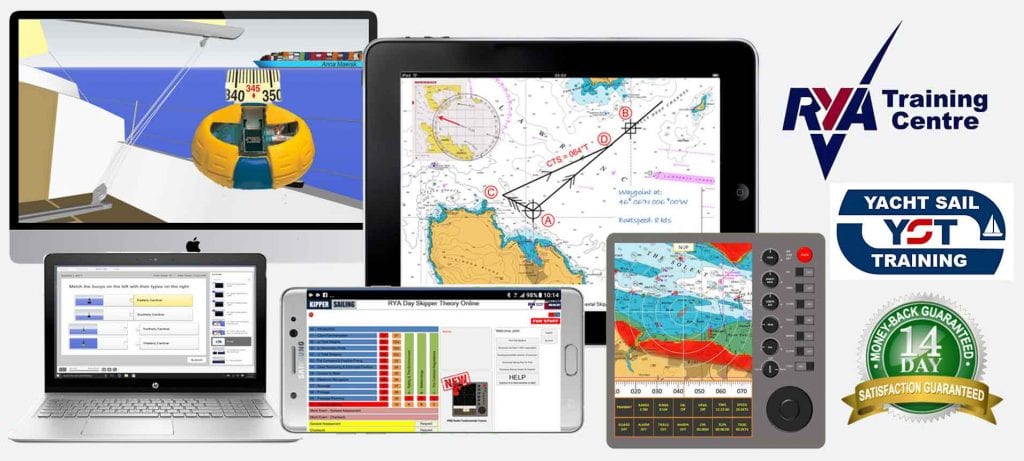 JOIN OVER 2,500 STUDENTS STUDYING IN 61 COUNTRIES WORLDWIDE
We use stunning 3D graphics, animations and narration to make our lessons fun and engaging
"Excellent pace, development and presentation of the material and knowledge required to pass the theory exams for RYA Day Skipper. I have received similar training in other professions but never as well crafted, in a developmental sense, as this one. From the opening lesson, I was hooked and had to contain my enthusiasm to work through the course content in one sitting! For anyone who cannot make the regular dates for evening classes or who doesn't want to commit valuable holiday time to a residential study course, this is a superb option, thoroughly recommended." – John 11th August 2017. 
Embark on Your Sailing Journey with Yacht Sail Training

Set sail for an unparalleled sailing experience with Yacht Sail Training, your esteemed RYA Sailing School in Croatia. Discover our wide array of RYA courses, including the highly sought-after RYA Day Skipper Online Theory course, meticulously designed to elevate your sailing expertise. Immerse yourself in the beauty of the Adriatic Sea as you master essential navigation skills and seamanship, all from the comfort of your own home.
Our dedicated team at Yacht Sail Training is committed to providing an extensive range of sailing courses, with flexible scheduling options to accommodate your needs. Explore the mesmerizing waters of Croatia, Greece, and Italy through our exciting Mile Building, Skipper Charters, and Sailing Holiday packages. From practical courses to adventurous expeditions, we offer a comprehensive learning experience tailored to your aspirations.
Join us at Yacht Sail Training and unlock a world of endless possibilities in the realm of sailing. Enroll now and become a certified skipper, equipped with the knowledge and skills to navigate the seas with confidence.
Contact us today and embark on an unforgettable journey towards becoming an accomplished sailor!
Extra Questions? - Please Use WhatsApp Link Or Drop Us An Email
RYA Practical Coure Pre-Requisites