RYA/​MCA Yachtmaster Ocean Online Course

Royal Yachting Association
Explore RYA/MCA Yachtmaster Ocean Online Theory Course
At Yacht Sail Training, we take pride in offering a full spectrum of courses, with new courses and dates continuously added to our roster. If the preferred date for your course isn't currently available, feel free to get in touch with us. Our accommodating team may be able to make arrangements to suit your schedule.
Discover the comprehensive RYA/MCA Yachtmaster Ocean Online Theory courses that are meticulously designed to elevate your sailing expertise and take your skills to the next level. Join us now to unlock a world of sailing knowledge and proficiency.
Description
21st Century Navigation is vulnerable to GPS failure. Hackers might penetrate the system, terrorists might jam the signal, solar storms might take out satellites. More likely, your own onboard systems could fail. Exactly this happened to our school principal after a lightning strike. 
The ultimate backup is a sextant, accurate timepiece, nautical almanac and a set of, what are known as "sight reduction tables". However whilst the process of translating a sextant sight into a position line is straightforward it is quite challenging to get to grips with. Unlike classroom training, where time is limited and students progress at different rates. Online learning allows you to participate in lessons as many times as you wish. Rewind and replay. You can also repeat exercises and, if you struggle to get to the correct answer, we'll guide you through step-by-step.
RYA/MCA YACHTMASTER OCEAN
Online RYA/MCA Yachtmaster Ocean Shorebased course comprises 13 online lessons and numerous self-assessment exercises.
Introduction & Basic Astro Navigation Theory.
Using a Sextant.
Meridian Passage.
Sun Sights.
Plotting Your Position.
Planet Sights.
Moon Sights.
Star Sights.
Latitude by Polaris (The Pole Star).
Compass Check by Sun's Amplitude.
Ocean Weather & Tropical Storms.
Passage Planning.
Satellite, HF communications and obtaining weather data.
Options:
Top quality Portland Plotter and brass chart dividers, £28.
Free UK Delivery
European delivery £20.
Worldwide delivery, £40.
Additional 6 months, £50 or 12 months, £80.
At the end of the course, you'll be set an exam and, if you pass,  we'll issue you with a RYA/MCA Yachtmaster Ocean course completion certificate.
Welcome to Yacht Sail Training
Your Premier RYA Sailing School in Croatia
RYA Yachtmaster Ocean Online Theory Course Information
Looking to gain comprehensive insights into the RYA Yachtmaster Ocean Online Theory course? You're in the right place. Get in touch with us for expert guidance or secure your place in our meticulously designed RYA sailing courses. Immerse yourself in the world of sailing excellence, facilitated by Yacht Sail Training's online program. Our esteemed RYA sailing school boasts top-tier instructors and a comprehensive online learning experience.
Enhance Your Sailing Expertise Worldwide
Explore the vast expanse of sailing yachts, motorboats, super-yachts, or RIBs with confidence. Allow us to accompany you on your online learning journey, assisting in securing lucrative sailing opportunities and finding proficient yacht crew members. Participate in exhilarating races and regattas to fuel your passion. Take a decisive step towards realizing your sailing aspirations by enrolling in our comprehensive online sailing courses.
Discover our Extensive RYA Course Offerings
Enroll in our practical online courses, including RYA Competent Crew, RYA Day Skipper, RYA Yachtmaster Coastal, RYA Yachtmaster Offshore, and RYA Yachtmaster Ocean. Expedite your sailing journey with our specialized RYA Fast Track Sailing Courses, Adventure Courses, and Mile Building programs. Yacht Sail Training proudly holds the recognition of being a Royal Yachting Association (RYA) School, guaranteeing the highest standards of practical and theory courses.
Embark on Unforgettable Sailing Adventures
Expand your horizons with our captivating Mile Building, Skipper Charters, and Sailing Holidays, regardless of your location. Seeking a charter yacht? Contact us for a personalized quote tailored to your specific preferences and requirements.
Enroll in RYA Yachtmaster Ocean Online Theory Courses and Set Sail
Join Yacht Sail Training's esteemed RYA sailing school and witness your sailing dreams come to life through our immersive online program. Stay updated on our exclusive sailing course discounts and offers by following us online.
RYA/​MCA Yachtmaster Ocean Online Course
RYA Suggested Training Route
The Royal Yachting Association (RYA) Training Route for Yachtmaster Ocean Theory Online
Setting the Standard for Sailing Excellence
The Royal Yachting Association (RYA) sets the benchmark for sailing excellence, offering a comprehensive training route designed for individuals striving to excel in the maritime world. With a structured and well-established scheme, RYA facilitates a progressive learning journey for sailors of all levels.
Mastering the Seas with RYA Yachtmaster Ocean Theory Online
Embark on your sailing journey with the foundational Essential Navigation and Seamanship course, seamlessly advancing through the Competent Crew and Day Skipper levels. Gain invaluable practical experience and theoretical knowledge, setting the groundwork for mastering the open waters.
Advancing to Yachtmaster Ocean Proficiency
RYA's carefully curated scheme paves the way for sailors to achieve the pinnacle of sailing expertise. From Yachtmaster Coastal to Yachtmaster Offshore and ultimately, Yachtmaster Ocean, each stage builds upon the skills and expertise acquired in the preceding courses. This comprehensive training route not only ensures a thorough grasp of navigation, safety, and seamanship but also instills the confidence and competence necessary to navigate the open waters with finesse and proficiency.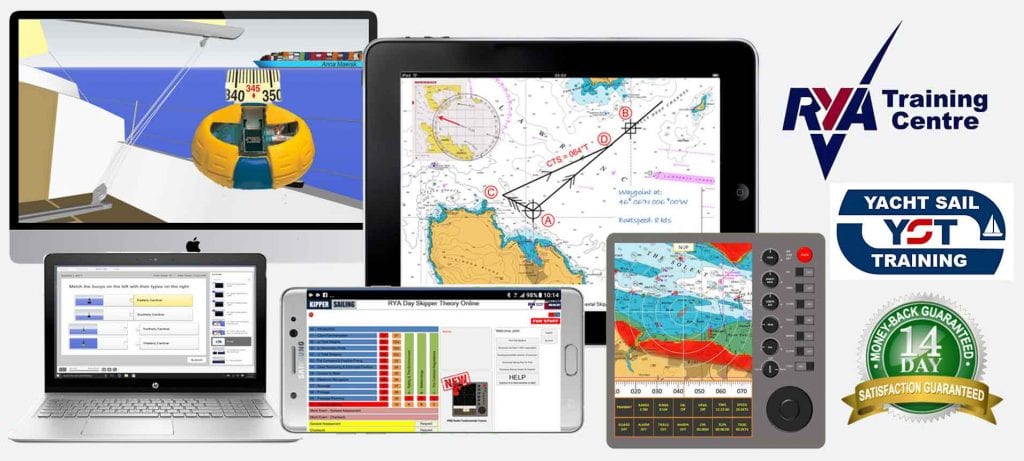 JOIN OVER 2,500 STUDENTS STUDYING IN 61 COUNTRIES WORLDWIDE
We use stunning 3D graphics, animations and narration to make our lessons fun and engaging
"Excellent pace, development and presentation of the material and knowledge required to pass the theory exams for RYA Day Skipper. I have received similar training in other professions but never as well crafted, in a developmental sense, as this one. From the opening lesson, I was hooked and had to contain my enthusiasm to work through the course content in one sitting! For anyone who cannot make the regular dates for evening classes or who doesn't want to commit valuable holiday time to a residential study course, this is a superb option, thoroughly recommended." – John 11th August 2017. 
Embark on Your Sailing Journey with Yacht Sail Training

Dive into the Virtual World of Sailing
Take a plunge into the captivating world of sailing through our immersive online Mile Building, Skipper Charters, and Sailing Holiday packages. These meticulously designed courses enrich your online learning experience and provide you with the tools necessary to succeed in the world of sailing.
Unlock a World of Endless Sailing Opportunities Online
Enroll now and become a certified skipper, equipped with the knowledge and skills needed to navigate the open waters with confidence, all through our dynamic online program.
Get in Touch with Yacht Sail Training Today to Set Sail on Your Online Sailing Journey
Embark on an unforgettable online voyage toward mastering the art of sailing with Yacht Sail Training.
Extra Questions? - Please Use WhatsApp Link Or Drop Us An Email
RYA Practical Coure Pre-Requisites